Tuesday, June 12, 2012
Posted by

Janet Marino
at 7:03 PM
No comments:

Posted by

Janet Marino
at 6:57 PM
No comments:

Posted by

Janet Marino
at 6:55 PM
No comments:

Tuesday, August 23, 2011
Tyree made a teak top for the Steampunk Table. I love it. I've been too scared to put anything on it yet.
- Posted by Janet
Saturday, August 13, 2011
We knew we were going to have to design some sort of free-standing trellis for this wisteria plant, otherwise it would rip the front of the house off. I had no idea how fast the stuff grows until now.
You may remember we had to butcher the front side to paint enough to pass the inspection. Tyree felt bad about it afterward. Turns out he need not have worried.
Yikes!
I'm thinking we should build something like this:
...in front of the house, completely free-standing and train the plant away from the structure. It grows so fast I almost think we could prune off the branch closest to the house each year and let it grow towards the front of the trellis.
- Posted by Janet
This project is moving right along. The faux-down pillows arrived on Thursday and while Tyree was down at the studio painting last night, I made the covers. I used the cotton drop cloths again. They sell one at Home Depot that is 6 x 9. I bought 2 of these and after they were washed, I cut them into strips 30 inches wide. I folded them into pockets and sewed the two unfinished sides and turned them inside out.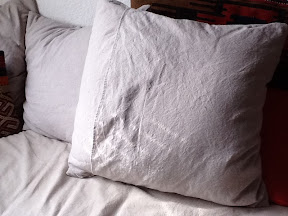 This is what the back of the pillow envelope looks like after I stuffed the pillow in. I can just chuck them in the washer anytime. Stay tuned for the futon covers. Right now I just have more drop cloths draped and tucked under the cushions themselves, but I plan to sew fitted covers next.
- Posted by Janet
Location:Fountain Farm